Los Olivos District Viticultural Area
Los Olivos District is a proposed American Viticultural Area (AVA) in the Central Coast of California. In northern Santa Barbara County, in the center of Santa Ynez Valley AVA, to the west of the Happy Canyon of Santa Barbara AVA and to the east of the proposed Ballard Canyon AVA.
Los Olivos District corresponds with the "historic" Santa Ynez Valley, encompassing the four townships of Los Olivos, Ballard, Santa Ynez, and Solvang.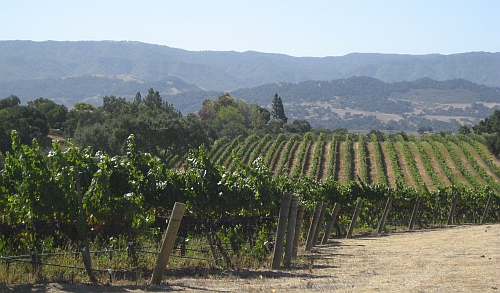 The total area is approximately 22,821 acres, of which a total of 1,121 acres are planted to vines, in 47 vineyards, making it the largest concentration of vineyards in a sub-appellation in Santa Barbara County. The grapes are principally Bordeaux (Sauvignon Blanc, Cabernet Sauvignon, Cabernet Franc, Merlot) and Rhône (Syrah, Grenache) varietals, but also include some Italian and Spanish grape varietals.
The soil in Los Olivos District is generally uniform, dominated by the Positas-Ballard-Santa Ynez association, which consists of well-drained, fine, sandy loams and clay loams on terraces. The terrain slopes gently from north to south. The climate is moderate with limited marine influence marked by warm days with occasional morning fog and cool nights.